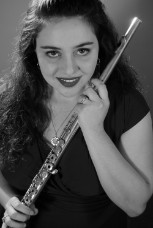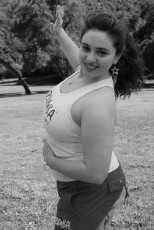 Originally from Los Angeles, CA, Thea Komen began her musical training at the age of 5. The youngest in a musical family, Thea was surrounded with music and encouragement of artistic study from early childhood.
Thea Komen began teaching music in 1997. She holds a Bachelor's of Music in Flute Performance and a Master's of Music in Afro-Latin Music from CSULA. Thea works very well with children and adults alike with clear instruction that is catered to the student. Thea also performs as a flutist in local ensembles ranging from classical styles to world music. As a professional musician and dancer, Thea believes that music goes beyond the notes on the page and is a wonderful outlet for expression and creativity.
Thea has performed the art of Belly Dance since 2001 and began
teaching in 2005.
She is the creative director and founder of the student dance ensemble,
Thea & Raqs Euphoria
. Thea performed for four years as a member of the
Jewels of the Dance and has studied under Mesmera, Princess Farhana, Kristen, Kamala, Sooz and other greats. Thea also has basic knowledge and experience in American Tribal Style (ATS) performance and technique. Known for her strong hip movements, flowing veil work, zills and sword, Thea has pleased many audiences with her natural fluidity and creativity in dance.
Thea has performed as a regular dancer at restaurants and clubs in Hollywood, the Los Angeles area, and throughout California
, as well as many other events, private parties and Belly Dance conventions.
She has also entertained at restaurants and clubs in Brazil
.
With her combined knowledge and understanding of music and dance, Thea Komen has created truly original works of art by performing her own choreographed dance routines to her original musical compositions.
In 2008, Thea trained and became Zumba certified, and Bellyfit® in 2013. She now uses her knowledge of world music and dance to help people get fit while having a great time in a party environment. In 2017, Thea trained and became an instructor of several adult fitness classes.
Thea Komen teaches Flute and Piano to children and adults. She has coached the flute section for the band program at Crescenta Valley High School for several years and also for her advanced student flute ensemble, "Flutes in Cahoots". Thea has instructed and performed of
belly dance
and Bellyfit®
with classes in Arcadia and the La Crescenta area. She also composes music for commercial and private use.