Belly Dance Classes


presented by Arcadia Recreation & Community Services Department
Summer Session 2016
September 6 - November 17
Basic Belly Dance
Technique & Choreography
Tuesday 7-8pm
at Museum Education Center,
382 W. Huntington Dr.
(behind the community center)
9/6-11/15
$68/11 weeks
age 14+
class #F16-2010
Advanced Belly Dance
Technique & Choreography
Thursday 8:15-9:45pm
at Community Center, 365 Campus Dr
9/8-11/17
$90/11 weeks
age 18+
class #F16-4151
Bellyfit®
Tuesday 8-9pm
at Museum Education Center, 382 W. Huntington Dr.
(behind the community center)
9/6 - 11/15
$68/11 weeks
age 14+
class #F16-2011
Classes offered by full session only.
Belly dance is a beautiful art form that embraces all shapes and sizes. Basic belly dance class session includes beginning and intermediate technique, practice with props such as veils and finger cymbals, and Egyptian style choreography. Props are available for use during class time or for purchase from the instructor. Wear comfortable workout clothes. Students may dance barefoot or in thin-soled dance shoes.
Advanced session includes choreography development and guided improvisation. Advanced students will also have performance opportunities in various outside events. The Advanced session culminates in a performance for friends and family during the final class. Previous belly dance experience is recommended.
Register online or in person through the City of Arcadia, Recreation and Community Services Department
375 Campus Drive
Arcadia, CA 91007
626.574.5113
________________________________________________________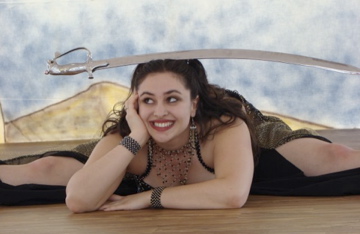 Hire Thea for Performance
or Private Instruction
Thea is available for private parties and dance instruction.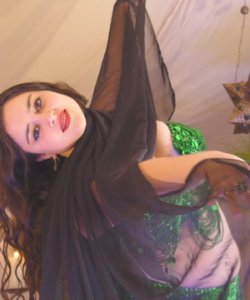 ________________________________________________________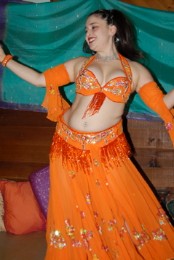 About Thea:
Thea has been Belly Dancing since 2001 and began
teaching in 2007.
She is the creative director and founder of the student dance ensemble, Thea and Raqs Euphoria. Thea performed for four years as a member of the
Jewels of the Dance and has studied under Mesmera, Princess Farhana, Kristen, Kamala, Sooz and other greats. Thea also has basic knowledge and experience in American Tribal Style (ATS) performance and technique. Known for her strong hip movements, flowing veil work, zills and sword, Thea has pleased many audiences with her natural fluidity and creativity in dance.
Thea has performed as a regular dancer at Moun of Tunis in Hollywood. She has also per
formed at Dar Maghreb, El Cid Show Restaurant, Gitana, Simon's Cafe, The Sphinx Cafe, Anabelle's Chocolate Lounge, Paraty 33 and Onile in Brazil, as well as many other events, private parties and Belly Dance conventions.
Thea's performance at McGroarty Arts Center, 2011