Come see us at our next show:
Thursday, November 17, 2016, 8:30pm
End of session bellydance class showcase
Join us for an end of class session student showcase at Arcadia Community Center, 365 Campus Dr., Arcadia, featuring group and solo dances by Miss Thea's students, Beginning to Advanced Levels!
Raqs Euphoria is an ensemble of enthusiastic belly dancers based out of Arcadia, CA. The troupe is led by the group's creative director, international performer and instructor of belly dance, Thea Komen, and assistant director, Jessikah. Raqs Euphoria has delighted audiences throughout Southern California with its energy and creativity. Each member of Raqs Euphoria has contributed to the group's choreography for a truly unique collaborative experience that showcases the strengths of all the dancers. Thea & Raqs Euphoria are proud to present Egyptian and American styles of this beautiful feminine art form that embraces all shapes, sizes, ages, and backgrounds.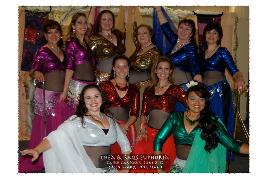 Hire belly dancers for your event!
Raqs Euphoria is available for private parties and events.